Real estate sales are cratering around the GTA. Is this a crash in the making?
Prices in Richmond Hill…..have dropped a whopping 43 per cent from the peak
The experience of York is a microcosm of what a wider housing crash in Canada might look like
If I wasn't a Realtor with access to the statistics I'd be quaking in my boots!
This kind of writing is pure unadulterated hyperbole. Journalists and publishers desperate for website traffic will write anything it seems.
Is working people into a panic good for the economy in any way? This is irresponsible on so many levels.
I'm a numbers guy plain and simple, and the devil is always in the details.
Cherry picking data to generate traffic is not journalism. Macleans should do better.
Of course values are lower than the peak prices seen last spring, both here and in the GTA. We've had a government induced correction after all.
Wouldn't it be better to consider the prices month over month since the Wynne Government's Foreign Buyers Tax? Are prices falling? Are they going up? Are they stable? What is the trend?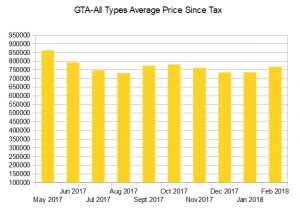 The GTA data for the last half of 2017 and into this year shows relatively flat pricing. Average prices for all housing types have run in a band between $725,000 and $775,000 since June. Importantly the numbers are at the high end of the band right now. GTA prices have risen steadily over the last 3 months. They are higher than last August and are roughly on par with the September through November figures.
That looks like stability to me despite GTA prices lagging behind last year's figures.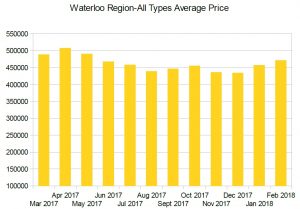 Our local market is in better shape with a similar picture of flat to rising figures over the same period.
The big difference between the GTA and Waterloo Region is scale. Prices here didn't run up so high in the spring of 2017 and didn't have so far to fall.
The Waterloo Region market has fully recovered on a year over year basis. The average detached price here is up $30,000 month over month and we are looking at a busy spring. Have a look at my Real Estate Market posts.
Sorry Macleans, the sky isn't falling…..