KITCHENER-WATERLOO, ON (October 5, 2016) ––A total of 540 residential properties changed hands in Kitchener-Waterloo and area though the Multiple Listing System (MLS® System) of the Kitchener-Waterloo Association of REALTORS® (KWAR) in September. This represents a 29.2 percent increase in sales compared to September of 2015, and is a new record high for the month.
On a year-to-date basis 5,241 residential units have sold compared to 4,456 during the same period in 2015, an increase of 17.6 percent. This is the first time sales have exceed the 5000 unit mark at the end of the third quarter.
"While demand remains strong, the supply of active listings continues to be elusive," said KWAR President Charlotte Zawada. Residential listing inventory on the KWAR's MLS® System to the end of Septembers totalled 815, a decline of 51 percent compared to September 2015.
Showing the most traction, were the sales of condominium type units, which include any property regardless of style (i.e. semis, townhomes, apartment, detached etc.), increasing 80.6 percent to 130 transactions in September relative to the same month a year ago. Meanwhile, 333 single detached homes sold last month, an increase of 19.8 percent, compared to last year. September's sales also included 31 Semi-detached homes (down 18.4 percent) and 33 freehold townhouses (up 22.2 percent).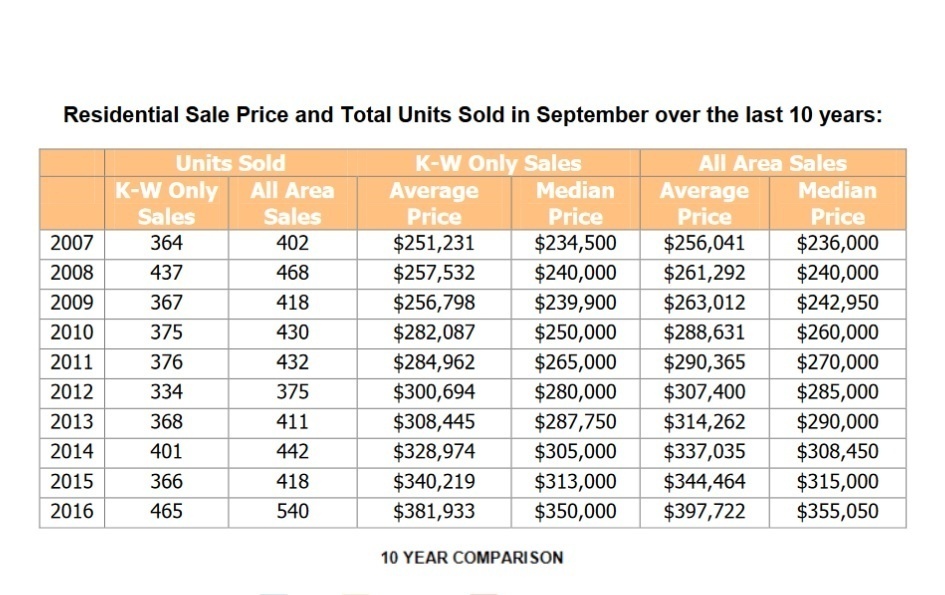 The average price of all residential properties sold year-to-date was $380,692, a 9.7 percent increase over 2015. The average price of a detached home to the end of the third quarter was $443,554, an 11.8 percent increase over 2015. During this same period, the average sale price for an apartment style condominium was $231,187, an increase of 4.5 percent. Townhomes and semis sold for an average of $281,709 (up 8.3 percent) and $293,167 (up 8.5 percent) respectively.
The median price of all residential properties sold year-to-date increased 9.9 percent to $350,000, and the median price of a detached home during the same period increased 10.9 percent to $400,500.
"Like many of our neighbouring market areas, it continues to be a sellers' market here in Waterloo region," says Zawada. "The tight supply of listings we're experiencing is putting upward pressure on prices."
Although growth for the region is generally positive, and demand for residential real estate continues to be strong, Zawada acknowledges that the recent measure by the federal government to introduce a mortgage rate "stress test" on all new insured mortgages could delay home purchases for some would-be first time buyers, as they assess what they can afford, and possibly save for a bigger down payment. "While the changes shouldn't impact our market to a large degree, the very fact that the government is taking these steps could cause a slight cooling of the market," says Zawada.