Home prices were mostly flat across Waterloo Region this October. Valuations overall came in close to last year's figures with sales volumes up 10% on a YOY basis. Modest gains in Semis were offset by declines in Apt. style condos with Townhouse and Detached prices almost dead even with last October.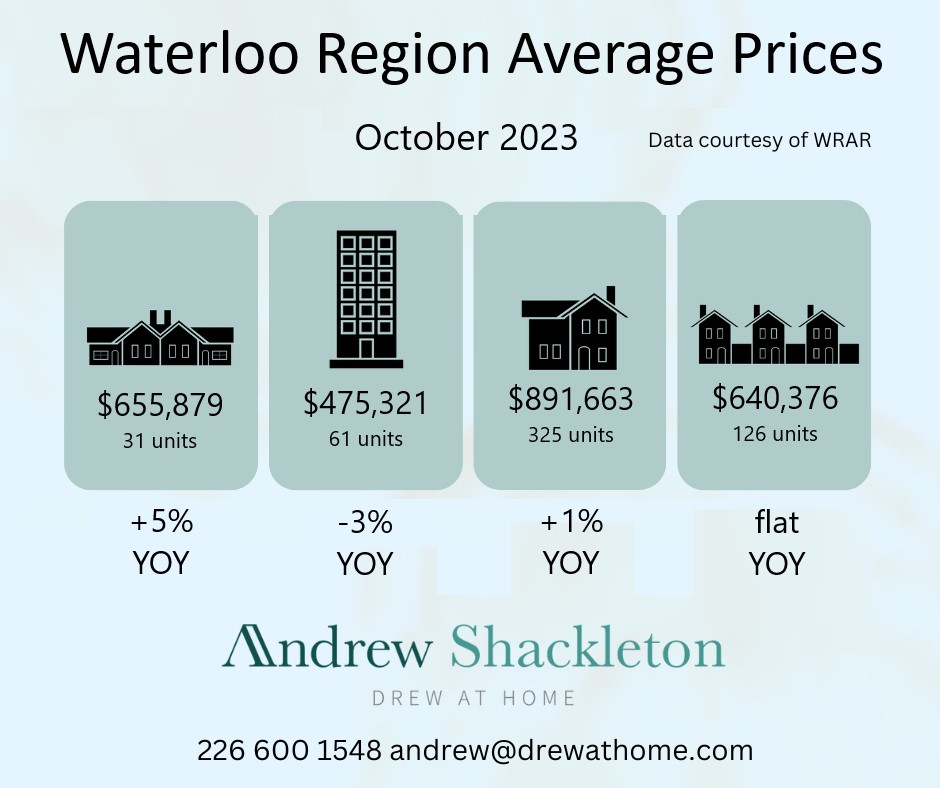 The bump we saw in sales activity, while welcome, is down 22% compared to the 5 and 10 year averages in the region. Average October 2023 home prices for single family residential property in Waterloo Region are down 10% compared to the 2022 figure, sitting at par with the 2021 yearly number. Despite the drop in prices and sales activity, short supply and strong demand are keeping valuations elevated with prices sitting 48% higher than pre-pandemic figures.
We had 1493 listings in October, not quite enough to put us into balanced market territory, defined as 3 to 5 months of inventory. Nevertheless this is welcome relief for buyers. We haven't had this level of inventory in the month of October since 2015.
I believe we'll see a slower November which is typical nearer the end of the fall buying season. The hold on interest rates announced on October 25 was expected and will have little effect on market activity. Opportunity awaits buyers willing to purchase over the next few months before the spring market arrives nearer the end of February. The weeks around Christmas and New Years are particularly quiet. Read the full WRAR press release here.