A For Sale By Owner (FSBO) property can be a real headache if the home owner doesn't know what they're getting into. And even if they have the skill-set, selling a FSBO often results in less money at the end of the day.
So why sell privately? First off private sellers aren't fans of the professionals or they'd hire one. They believe that agents get paid too much and that they'll save a pile of cash going alone. Being brave enough to FSBO their home also requires the attitude that a professional brings nothing that the homeowner can't do themselves.
This is a hard mindset to shake. And it's not something I'm trying to change. In fact I'm sure enough in what I do that I'm going to tell would-be private sellers exactly how to FSBO their property. If a private seller can do a crash course in the basics of real estate law, pricing, marketing, paperwork and negotiating have at it.
Here's how to do it.
You're a layperson so pricing your home will be a bit of a guess. You'll need to go to sites like Housesigma and check out sold properties every day for months on end before deciding. You'd better get on someone's listing feed as well and do the same (here's mine) for active listings.
Okay, so it's several months later, now it's time to set your price. That's tricky too. What's your strategy? Do you set it at what you think your house is worth? Under-price? Over-price? What's considered over-priced? What will the public think about that? How many comparable properties have you looked at in detail on MLS? How many homes have you actually been inside over the years?
How does your home look? Is it ready to go? Go and read the section about getting ready in my comprehensive guide to selling. Check out my staging page too.
I'm guessing you probably have zero skills in marketing and no platforms to advertise on either. Who will you call for photography? It's time to google someone isn't it? What about video? Can you put yourself in front of a camera and do convincing copy? It's really not that bad after studying public speaking for several years. Shooting over 500 videos helps too.
And about that marketing, you'd better watch what you say in your copy. Misrepresenting things even by mistake can still get you sued.
What about Open Houses and showings? What about offers? Are you holding offers on a fixed date or whenever ? Then there's the negotiations, if you're lucky enough to get offers. Who's at the table with you having a look at the contract the buyer's brought? Who's going to write a counter offer? Who's going to push for more money without alienating the other side?
Deposit cheques, lawyers, requisition dates, showings, conditions to be dealt with, chattels, Notices Of Fulfillment and what to do about them, inspections, walk throughs, appraisals, fixtures, insurance, movers, lock boxes…..
Again, go and read my sellers' guide, I'm not going to spoon feed you.
Did you know that discount For Sale By Owner services usually fail to mention that 95% of potential buyers have an agent expecting to get paid at least 2% of the sale price. That FSBO commission isn't so cheap after all.
Trust is the final hurdle that you must deal with. The public doesn't trust FSBOs and they don't trust you! They're almost certainly thinking what are you hiding? Why don't you use a professional?
Anyway, I hope you get it sold. Good luck with that.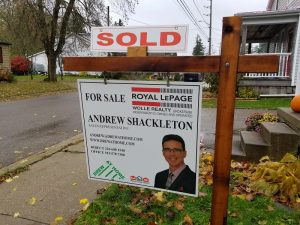 Here's a story about some For Sale By Owner sellers I turned into loyal clients. They needed their home sold ASAP and found me online. We met and I signed them a few days later. A month of very hard work ensued. I did exactly as I promised and I'd like to think I've changed my clients' opinions of Realtors for the better.
Here's what they said, straight from my reviews page.
We tried listing our own house. Could not sell it. Found Andrew Shackleton with Royal LePage. The man was awesome, he looked out for our best interests, did amazing pictures and videos and described our house like it was a palace. He got it sold for us like he said he would, over asking. If you want to buy or sell, look no further than Andrew.